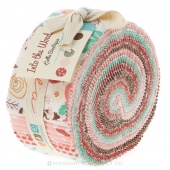 .
Spend enough time online or in stores hunting fabrics, and sooner or later you're going to wonder what a Jelly Roll is. Simply, it's a one of the many pre-cuts available to quilters. The fabrics are from a designer line, pre-cut in strips 2 1/2" wide. This is from Missouri Quilt Shop, and runs about $36. Expect about 40 strips about 44" long.
Into the Woods Jelly Roll
by
Vanessa Goertzen
for Moda Fabrics
I think of Jelly Rolls as I do convenience food. They're handy to have on hand for a quick project when I don't have much time. I also accept the limitations.
All the fabrics are chosen for me.

I'm given about the same amount of all the fabrics so I can't highlight one I really like unless I buy yardage.

Width and length limitations, therefore, pattern limitations.
It's kind of like shooting fish in a barrel, you know? It's going to look good because they all coordinate, but it strictly limits creativity. That aside, there are a lot of projects that are designed for them, and when you don't have to choose the fabrics or cut it out, it's going to be a quicker.
One I have in progress done with Tula Pink fabrics:
I have a Pinterest account under Julie Stocker, that's me, and a board called Jelly Roll Quilts. There are 100+ inspiring ideas stored there. Many of the pictures link to directions, and also to other quilters blogs. You can lose yourself in all the creativity out there. It's humbling.
Today I'm finishing up my Batik Jelly Roll since the weekend was so busy. You'll get the final pictures by tomorrow.
This week's Finish Up project is another quilt pattern that can be made with Jelly Rolls, and one I'm really excited to finish up.
So take a wander over to Pinterest today, and get a taste of the Jelly Roll. The Doxies and I are off to work.
Come on, Doxie girls. Let's go sew.